This section of the site contains resources developed to assist and support those responsible for administering the Firefighters' Pension Schemes.
Administration of the schemes is supported by LGA centrally and a network of forums and groups also exists for administrators and Fire & Rescue Authorities to work together to share best practice and provide peer support.
A current list of FRAs and their administrators can be accessed here.
The diagram below shows how the technical group, regional groups and communications group fit in alongside statutory governance arrangements. Please click on the headings underneath the diagram to see more about the work of the groups. If you are a member of one of these groups, you can use the log-in form at the side of the page to access the member area and view meeting minutes and paperwork. Log in details can be requested from [email protected].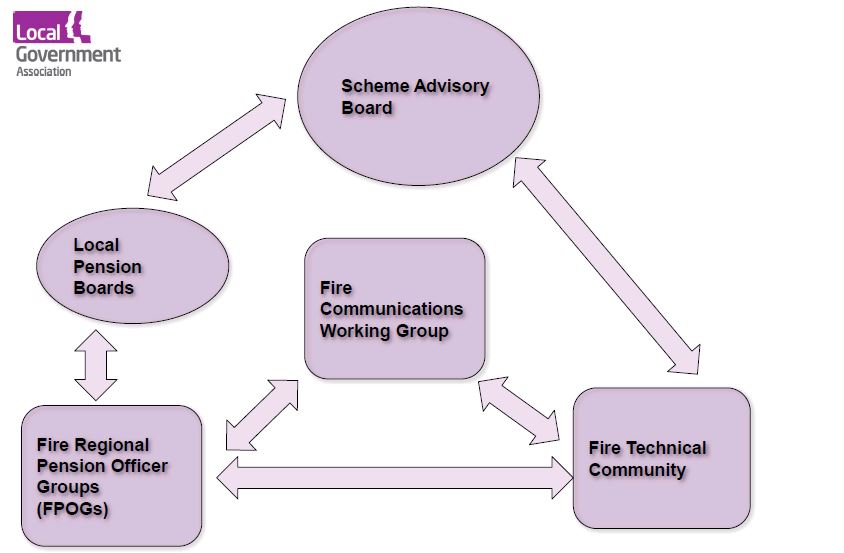 The Fire Communications Working Group (FCWG) is a meeting of fire service and pension administration professionals who are involved in communicating the Firefighters' Pension Scheme benefits of the 1992, 2006, and 2015 schemes. It is a collaborative forum, who meet on a quarterly basis to develop items of communication, primarily for scheme members in the Firefighters' Pension Schemes. The group was created and is run by the Local Government Association.
The Terms of Reference give more information about the background and membership of the group.
The purpose of the Firefighter Pensions Technical Community is to work together with the Home Office, LGA and other fire service stakeholders to enable the effective facilitation of the administration of the Firefighters' Pension Schemes. Please view the Terms of Reference for further details on the aims and constitution of the group.
Registered members can log in to the member area to view details of the meetings of the Technical Community including agendas, minutes and associated papers. Papers for meetings up to and including 9 October 2017 are also held on the Knowledge Hub forum.
Regional FPOGs were created to feed into the Technical Community, removing the need for practioners to attend every meeting of that group. Their aim is to enable sharing of information, expertise and knowledge related to the Fire Pension Schemes and facilitate efficiencies in the implementation and management of the schemes, and to enable the sharing of development work/lead activity between the representatives of the region to save duplication of effort.
While each of the six regional groups will have their own Terms of Reference, a draft template was provided at inception. The six regions are as follows:
Eastern
Midlands
North East
North West
South East
South West & Wales